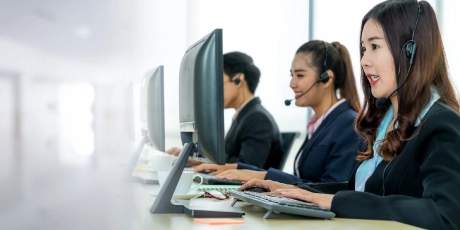 10 Things You Should Know About Agent Desktop
What is Agent Desktop?
Agent desktop is a software application that equips contact center agents with all the information to ease their job function. It keeps your agents equipped, productive, and prepared to impress your customers in every interaction. In this blog, let's learn how an agent desktop can equip agents and be the solution!
Agents need access to critical resources like customer information to have support and to reflect satisfaction in customer interactions.
If an agent can't quickly find solutions to customers' needs, the interaction might quickly escalate, even if the agent is trying their best to offer excellent service. Agents who are frustrated often establish poor connections. Also, switching between apps and programs or lacking the tools to meet customer demands can set up an agent for failure, making the customer and agent suffer equally.
"Contact centers may offer a poor customer experience when agents lack adequate resources."
(Source: Ringcentral.com)
Top 10 things you need to know about Agent Desktop:
1. Integrated software suite - Agent Desktop is designed to help contact center agents work more efficiently.
2. Access to customer information - It provides agents access to customer information, call history, scripts, and other helpful resources.
3. Optimize customer experience - Enables contact center agents to access the information they need to provide better service quickly.
4. Comprehensive reporting and analytics - It also provides agents with reporting & analytic capabilities.
5. Available in two versions - It is on both on-premise and cloud-based versions.
6. Seamless integration - Integrates with other contact center solutions, such as CRM and workforce management systems.
7. Tailored to specific needs - Agent Desktop is highly customizable and can be tailored to the needs of each contact center.
8. Supports multiple languages - Offers localized versions for different regions.
9. Intuitive and user-friendly - Agent Desktop is designed in such a way that it is easy to use.
10. Deliver a better customer experience - It helps contact centers by giving agents the resources they need to do their job more effectively and efficiently.
Enable Agents to Respond Faster, Better, and Smarter
Imagine if your agents had one place to look for all their interactions, conversation history, CRM information, and knowledge base. They don't have to screen-hop or worry about customers experiencing long hold times. They could authenticate customers in real-time and give your customers what they are looking for - effortless and fuss-free experiences!
Sensiple's Unified platform
Sensiple's unified agent desktop platform, ConverSense, provides a single catalog of services and information across the organization that extends to all departments to help agents connect seamlessly and efficiently and access customer data and resources to deliver superior service. The unified console (Teams) for agents can handle multiple channels – Voice, chat, case creation, viewing user information, and much more.
Instant Language Translation
User 360 information
Integrated KB and ITSM pages within the agent console
Manage tickets within the agent console
Agent assistance tools
Increase agent productivity by providing timely insights and knowledge whenever they seek it and help respond to users most innovatively and quickly. Your agents can now literally solve customer problems with knowledge at their fingertips and deliver great user experiences.
At Sensiple, we have made it one of our top priorities to empower agents with the insights they require on users, their preferences, and their journeys. Get in touch with our experts at info@sensiple.com today and transform your agent experience!
WordPress Blog Page Link
https://blog.sensiple.com/2023/01/18/10-things-you-should-know-about-agent-desktop