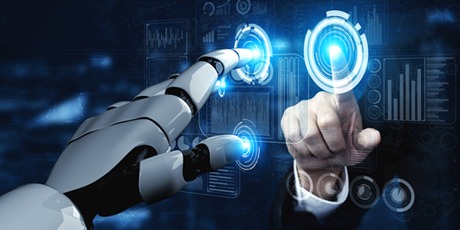 AI capability can reduce 60% efforts of HR Teams
Undoubtedly, there is an unexpected growth in artificial intelligence in recent times. At the moment, AI and automation have become complementary. They are gradually taking control over all industries you can ever think of, a game-changer for almost all the departments, and automating every departmental activity.
Artificial or Machine intelligence has replaced a lot of manually done tasks while imitating human behavior simultaneously. The idea of AI & Automation has reached new heights.
Can you imagine half of us don't even tap to call, in fact, we just talk to the phone to place calls. the user interaction keeps evolving. The same real-life transformation is trending at every enterprise-grade now, that's remarkable!!
The effect of AI is so clear and so rapid; it's really difficult to ignore them. However, by incorporating and leveraging AI capability, you can still minimize manual efforts by as much as 60%, be it HR or any other department.
Automation Is Prevailing Everywhere
Automation is nothing but the use of mechanized or electric processes to perform tasks without much interference by humans.
AI-led automation is all-pervading, and its impact on HR activity is now on the rise, but some of you are merely aware of this development.
There's absolutely no doubt that an AI-assisted future is on the way. Surveys predict that 60% efforts of HR teams will be reduced with the help of AI.
Progressive Era of Artificial Intelligence
You just cannot imagine how far AI has progressed in automating operational activities. Automation has drastically shortened the time-consuming administrative work in the HR departments on a day-to-day basis. AI helps in automating your generic HR queries, clarifications, and statutory processes, reducing bad procedures, repetitive tasks, and more.
Currently, the major players in the HR departments are robotics - bringing new change with AI and automation. According to recent surveys, 60% of manual efforts by HR teams can be reduced with conversational AI capability. This is a remarkable thing to experience in the world in the years to come. You are going to love experimenting and enjoy the great things it has to offer.
So, HR teams are required to explore Artificial Intelligence more. Once they understand and start using it effectively, they can reduce their manual efforts to a great extent.
AI & Automation in Reducing the Manual Efforts of HR Teams
Your existing HRM together with conversational AI capabilities can allow HR executives to make crucial decisions daily without being dependent on anyone. HR managers, team members, or executives would be able to quickly handle queries on Payroll, Leaves, Digital Onboarding, Statutory processes, Digital Employee Experience, and many other tasks with little effort.
Now that you have been hiring HR employees throughout the year and spending a lot on maintaining manual records, it's time to explore the world of AI and see what it has to offer. How AI and Automation are helping human resources and their time of activity?
Here is a sneak peek:
Automating HR Queries & Clarifications
Conversational AI interfaces like chatbots can help rebuild the old-fashioned HR query system, that would engage employees better and immediately give them information.
Using Chatbot HR executives can find and provide answers to employee queries quickly and also guide the new employees throughout the onboarding process. Chatbot can be programmed to include some of the most appropriate tasks or queries that the employees require access to, the information could be anything about company leave/pension policy to holiday list, probation period, etc.
The best part of using conversational AI tools or chatbots is that they are easy to navigate, as you can integrate them seamlessly into any messaging apps to provide employees the answers they are looking for.
Automating Statutory Processes
AI is the smart way to automate your company's statutory compliance requests such as generating forms, filing returns, online remittance, etc. It will be easy, to produce all statutory compliance-related forms, reports, and returns straight from the HR & payroll system, so that you can submit them to the Labor Office. This will hardly involve any manual work.
Automating & Eliminating Bad Practices
AI technology abandons age-long bad HR practices and upgrades the process of employee screening as well as selection processes. Employee recruitment is the most sensitive and lengthiest task managed by HR professionals. They are always in a hurry to complete this task on time. Conventional practices can bring the wrong people to the company. You may even end up firing the employee and re-hiring again, which is a waste of time and resources. However, the use of AI can help in filtering the right candidate.
Automating Repetitive Tasks
AI can automate and save the time of HR teams over repetitive tasks such as payroll processing, leave Mgmt, Access Mgmt, generating various reports etc. this will add to the HR productivity of your organization. It is a custom algorithm that makes AI imitate human behavior, work experiences and draws conclusions that would take a lot of manpower and time, if performed manually.
All of the above things can be accomplished without the possibility of human bias and error, declaring AI automation the new rule of the future, with myriads of benefits for HR teams.
We have been closely working with HR professionals of top companies. Looking at the challenges that the HR teams face every day, we have built a single platform called tryvium powered by AI/ML that transforms your existing workspace into a Modern, digital workspace.
Interested in what the tryvium desk can do for your organization? Request a demo today!
WordPress Blog Page Link
https://blog.sensiple.com/2020/08/17/ai-capability-can-reduce-60-efforts-of-hr-teams