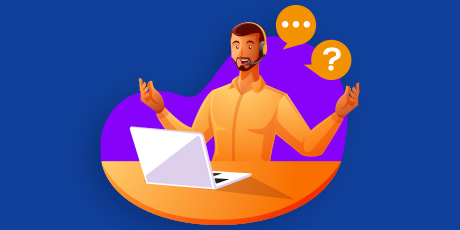 Contact Center as a Service - What must you know?
What is Contact Center as a Service?
Contact Center as a Service (CCaaS) is a subscription service installed in contact centers as a cloud-based CX solution. CCaaS helps contact centers purchase the technology needed, deploy new features, channels, and functions, and set it up in no time.
Brand presence is more important than ever before. Customers constantly try to reach out to brands for queries and feedback. Moreover, customer loyalty and satisfaction entirely depend on the speed at which their questions get resolved. To meet the customer demands, every brand must have multiple contact channels for customers. It is easier said than done. While a brand can set up the infrastructure, the process takes time and becomes quite expensive.
Call Center vs. Contact Center
The purpose of the call center and contact center is the same: to serve the customer. But the difference between these two is that call center agents resolve open tickets for customers only on the phone (both inbound and outbound). On the other hand, contact center agents solve customer requests over the phone, text message, email, and social media. A contact center is the same as a call center but with more capabilities.
Benefits of Contact Centers
There are many reasons why companies are embracing cloud-based contact center solutions.
Enhanced Omni-channel Experience
Customers need answers to their queries in the shortest time possible, and they cannot browse online to see if a brand is on an established platform, sign up, and post a question they want to be answered.
With CCaaS platforms, you can help customers irrespective of their modes of communication. Customers can choose any communication medium like email, phone, or social media, and you can have them covered through CcaaS. The customer service team shares a single customer view to access all messages from multiple platforms.
Low Cost and Increased Productivity
CCaaS is not expensive; the cost of deployment will be more affordable than building on-premises call center infrastructure. In addition to this, there are licensing fees and maintenance costs associated with on-premises deployment. Cloud-based contact center solutions contrastingly do not charge licensing or maintenance fees and do not have hardware that depreciates with time.
Cloud contact centers prioritize agents and provide a tailored and optimized dashboard for different types of customer inquiries. Also, with the help of the click-to-call feature, contact centers can avoid misdials and place outbound calls faster. The cloud contact center goes a step above to leverage the power of AI in resolving customer issues before they are even routed to the agent.
Reduced Downtime and Improved Scalability
For instance, If you have ten customer support agents today, you do not have to buy a hundred seats. CcaaS gives you the flexibility to add functionality & capacity at your convenience. It simply improves the employee experience.
In times of inclement weather or an equipment failure, the contact service provider can efficiently route the messages through a different data center since most CCaaS providers have multiple data centers across the country. Cloud-based telephony assures enterprise-grade reliability with an uptime of 99.999%.
How Can You Deploy CCaaS?
Setting up cloud-based contact center solutions is more accessible than the traditional telecom method. To deploy CCaaS, You will need an internet connection, a headset, and a workstation. The calls are made using the VoIP protocol (Voice over Internet Protocol) to make and receive calls. Team members log in to the software to respond to customer support requests. The supervisor can continuously monitor the queue and team availability, ensuring everything is operational.
How to Choose a CCaaS Platform
With an ocean of CcaaS providers, how can you choose the best one? The answer is simple! To ensure customer satisfaction, you must select the right contact center as your service platform. There are a few essential things to keep in mind.
Your Priorities - The features and perks of a CCaaS platform can sound exciting. Firstly, ensure you determine the features and options you need with your service, such as call recording, AI-based chatbot, IVR, analytics, audio conferencing, etc.
Is it simple to add users? Contact center demand fluctuates, and you may have 50 agents today but need 100 by the end of the next quarter. Understanding how to add and manage will help you save time and keep the function of workflow smooth.
Support available to you - Most contact center providers have add-on services such as 24/7 phone support, live chat support, and more. Knowing what you need can be a time and cost saver.
Post-pandemic, cloud-based contact center solutions have gained momentum because of their impact on agent engagement. When businesses improve their employee experience, optimizing the customer experience becomes effortless. Sensiple offers cloud contact center solutions that deliver measurable improvements in agent productivity and customer satisfaction scores.
WordPress Blog Page Link
https://blog.sensiple.com/2022/03/28/contact-center-as-a-service-what-must-you-know