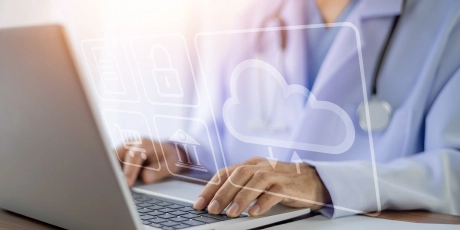 How does Cloud Computing help pharmaceutical companies?
The Pharma sector is characterized by its complex operations and vast amounts of data that must be stored, processed, and analyzed. In recent years, cloud computing in Pharma has emerged as a critical technology with the potential to transform pharma companies to manage their data and IT infrastructure and how they operate.
A MarketWatch research states, "The global Healthcare Cloud Computing market size is projected to reach USD 75710 million by 2027, from USD 25110 million in 2020, at a CAGR of 17.1% during 2021-2027."
Let us explore how pharma companies can leverage cloud technology and gain a competitive advantage in the industry.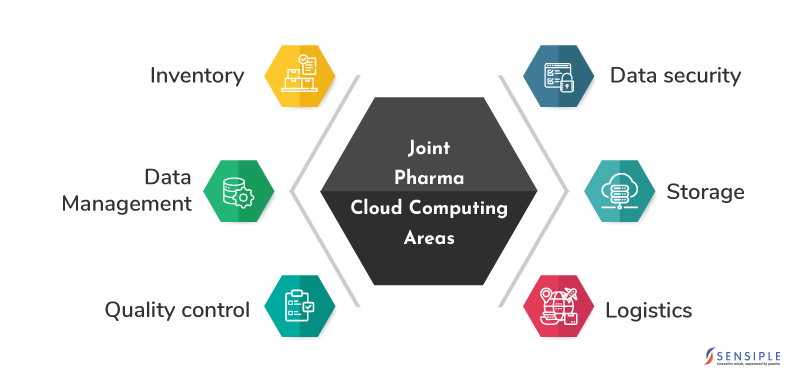 Benefits of Cloud Computing in the Pharmaceutical Industry
The adoption of cloud technologies has prompted companies in the pharma sector to reconsider their legacy operations. Utilizing cloud computing lowered costs and increased efficiency and has evolved to address critical concerns in the pharmaceutical industry, including privacy, security, and compliance issues.
Let us discuss some of the benefits of cloud computing in the pharmaceutical industry.
1. Accelerated Drug Delivery Procedure
Drug research and delivery is a longer process. Still, with cloud-based high-performance computing, researchers get access to practically infinite storage and processing capabilities that help them organize resources and direct preliminary surveys. Cloud-based infrastructure aids quick data transmission, including lab, photography, and statistical analysis data.
Other factors that help in a faster drug delivery process are:
Access to large data sets - Leveraging cloud-based data analytics tools and machine learning helps to analyze, manage, and store large amounts of data and gain insights into potential targets and interactions to streamline drug discovery
High-performance computing - These resources are crucial for computational simulations and analysis to reduce the time and resources needed to develop new drugs
Scalability - The easy allocation of required resources with cloud computing ensures efficient and uninterrupted drug delivery
2. Secure Data Sharing and Collaboration
The cloud's high-security measures can protect sensitive information, including encryption, multi-factor authentication, and physical security. It also ensures that only authorized users can access sensitive information such as patient health records and clinical trial data.
Cloud-based tools also allow real-time collaboration and data sharing between individuals, teams, and organizations, reducing the time required for data sharing and decision-making in the Pharma.
The strong policies by cloud providers ensure compliance against relevant laws and regulations, enabling to share and store only sensitive data. Cloud computing also enables easy scalability and flexibility to access, share and analyze rapidly changing data requirements.
3. Improved Security
Cloud offers improved security in Pharma in the following aspects:
Data encryption
All sensitive data at rest and in transit will be encrypted to help protect against unauthorized access and data theft
Access control
Granular control over access to sensitive data and actions allowed performed, allowing only authorized personnel to access critical information
Disaster recovery
Built-in disaster recovery ensures critical data availability even during natural disasters or unexpected outages
Compliance
Compliance with regulations to meet security and privacy requirements
Scalability and flexibility
Scale IT infrastructure up and down to meet changing security demands quickly
4. Cost-effectiveness
Maintaining and supporting your IT infrastructure can be expensive and time-consuming, as in traditional systems. Cloud computing helps pharma companies reduce IT infrastructure, data storage, and drug development costs. And much of the maintenance and support is handled by the cloud service provider, freeing up internal resources to focus on core business activities.
The pay-per-use model helps Pharma avoid investing in expensive hardware and software and access the technology as needed – paying only for what they use. This model is significant for the pharmaceutical industry as large amounts of data are stored and analyzed.
Leverage Sensiple's Cloud Services
Sensiple offers a smooth and hassle-free cloud transformation experience with certified cloud architects available across all major cloud platforms. With years of experience, Sensiple has successfully executed numerous cloud optimization projects for clients and can help you with everything from cloud setup to management and quicker deployment. Our expertise in cloud infrastructure and automation, innovation, delivery, and performance allows us to offer services and solutions that maximize the benefits of your cloud investments.
With Sensiple's cloud services, you can enjoy a seamless transition to the cloud, while keeping your operations secure and compliant and minimizing any potential business risks or interruptions to services. Contact us today to learn more!
WordPress Blog Page Link
https://blog.sensiple.com/2023/04/17/how-does-cloud-computing-help-pharmaceutical-companies