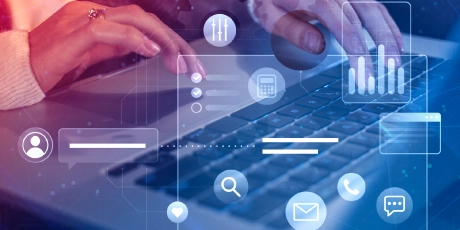 How to plan your Chatbot or Virtual Assistant Implementation
As OpenAI disrupts the world with ChatGPT and GPT4, large organizations are increasingly focused on leveraging artificial intelligence to streamline their customer assistance and improve their employee experience. While making an immediate switch to a full-fledged AI-based Virtual Assistant may seem challenging, organizations are ready to gradually embrace AI.
Before diving in, it is crucial to grasp the concept of chatbots, their role in enhancing customer service and CX, and why they are vital for the growth of any organization. We recently assisted our customer, a large energy provider, in taking this small yet significant step towards AI integration and, made sure that they were on the right path on their AI journey for employee experience.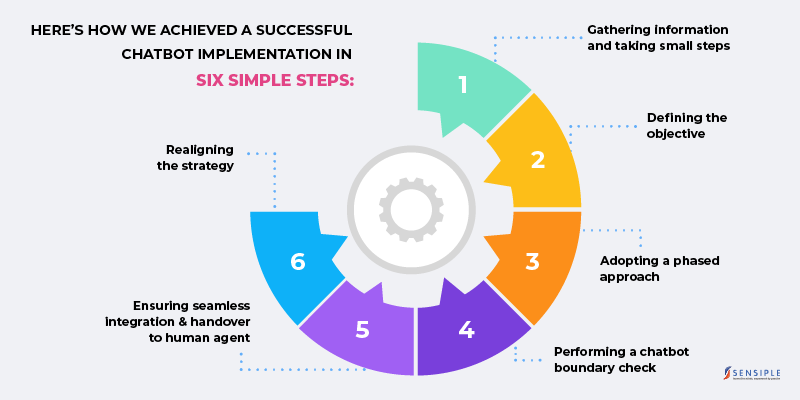 1. Gathering information and taking small steps
We started by gathering information on the Client, who was using a legacy web-based application for chat assistance
Our initial step involved migrating to a more advanced chat solution that seamlessly integrates with cloud-based AI or NLP apps
To accomplish this, we leveraged tryvium, Sensiple's cloud contact centre technology based on Microsoft Teams
The implementation of tryvium made the integration of Virtual Assistant remarkably easy and quick, enhancing the overall efficiency of the system
2. Defining the Objective
The primary motive for chatbot implementation is to make life easier for everyone – both employees and support desk
However, when organizations decide to adopt a Chatbot, they will have a specific goal or reason to implement Chatbot. It is critical to comprehend and formulate our approach based on that
Our customer wanted to reduce service desk interactions so that their service desk could focus on scenarios that requires their intervention rather than addressing all employee inquiries
To help the client achieve this goal, we conducted a four-week discovery session with their service desk staff to uncover scenarios that might be automated with minimal or no human intervention
3. Phased Approach
After the identification of potential scenarios or use cases that might be automated, the next step was to determine the strategy
Recognizing that a sudden transition to a Virtual Assistant may disrupt the employee experience we opted for a phased approach
We began Phase 1 with a few self-service scenarios along with the transition to tryvium for chat support
This ensured that employees become accustomed to the Teams-based chat solution while also receiving a preview of the Virtual Assistant that would be improved in the subsequent phases
In Phase 2, we rolled out 15 new scenarios, which reduced service desk interactions by 15% within the first two weeks
4. Chatbot boundary check
When implementing a chatbot for the first time, it is vital to understand or define the line between what the bot can and cannot accomplish
The goal is to ensure that the employees have their issues addressed without engaging the service desk. Hence, the chatbot should be trained to recognize when it is appropriate to transfer the discussion to the support desk personnel
If this is not done, employee might end up in a loop which disrupts the employee experience and defeats the purpose of implementing a chatbot
5. Seamless Integration & Handover to human agent
The chatbot should be intelligent enough to recognize the transition to a human agent and guarantee that the transition is seamless for both the user and the human agent
During the hand-over, the support desk staff should have a prelude to what took place before the hand-over/transfer from chatbot. This eliminates the need for the user to repeat the details or go through the same processes
So, it is critical to transfer all information of the user-chatbot interaction during the handover to a human agent
6. Realigning the strategy
Even if we had formulated the chatbot implementation approach to meet the client's objectives, we must adjust our strategy based on the circumstances
The ultimate objective in this instance was to reduce service desk interaction. In a few scenarios, even though the identified scenario was simple, manual interaction was necessary for resolution. Thus, we implemented partial automation in such cases to reduce the overall effort by the service desk personnel
To wrap up, you've now seen how we managed the chatbot implementation for our customer, ensuring a positive experience from the start. There is no right or wrong method to implement a chatbot, but bringing on the right partner for your chatbot journey can help you turn the tables.
At Sensiple, we understand the importance of Conversational AI in delivering personalized, proactive, and insightful conversations that delight customers. Our Intelligent Chatbot, Jenie, exemplifies our commitment to integrating technology, people, processes, information, and service into a seamless conversational experience where every customer and employee is heard. With Natural Language Processing and multi-lingual capabilities, Jenie serves as an around-the-clock customer support touchpoint, offering near-human conversational abilities to understand queries, retrieve knowledge, provide instant answers, and seamlessly connect users with human agents.
Ready to revolutionize your customer service agent's performance? Join us at Sensiple and embark on a journey to enhance customer-agent interactions and deliver exceptional service. Contact us today to explore our contact center solutions with digital and AI capabilities.
About the Author

Sujitha Jawahar is a PMP-certified Technical Project Manager with expertise in the solutioning and implementation of Contact Center and Chatbot Applications. As a mentor of the Delivery Management team, Sujitha is responsible for tryvium (our Employee Experience Platform) and Jenie (Conversational AI) implementations for our customers.
WordPress Blog Page Link
https://blog.sensiple.com/2023/05/29/how-to-plan-your-chatbot-or-virtual-assistant-implementation/