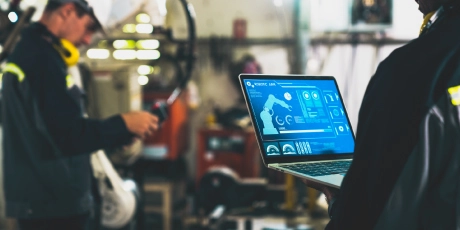 How is smart analytics transforming the manufacturing industry?
Across the globe, manufacturing industries are constantly looking for ways to streamline their operations. Recent Forbes research shows that manufacturers can only achieve 40% of their production capacity as they get bogged down with data entry work. So how can businesses enhance their manufacturing operations more efficiently and quickly? The answer lies in Manufacturing Analytics.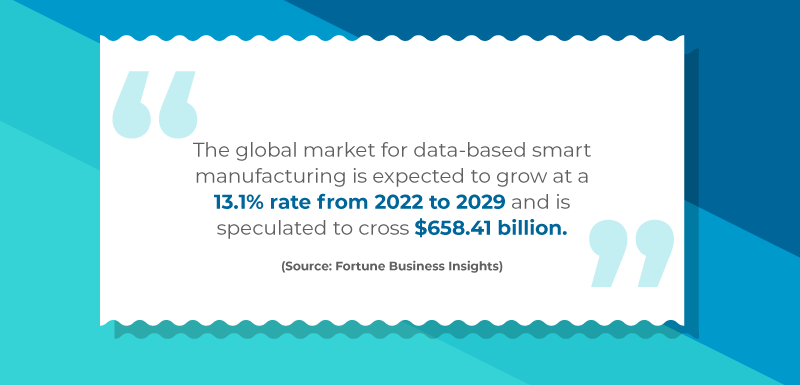 Manufacturing Analytics can streamline operations by delivering engaging and actionable insights that will drive the manufacturing industry to collaborate with the production line. Real-time smart data analytics will support enhanced productivity and precise decision-making.
Let's explore how smart data analytics can reform the manufacturing industry.
Generate superior demand forecasts
Manufacturers foresee future demand for their products. The combined trio of predictive analytics, real-time data, and machine learning will give deeper insights into the status of any machinery that requires maintenance or repair and suggest ways for improvement.
The manufacturing industry can integrate existing data with predictive analytics to build a precise forecast mechanism to decode future buying behavior. The predictive analytics will be based on past sales, processes, and the effectiveness of the working lines. Eventually, this will lead to intelligent risk management and highly reduced production waste.
Build self-repairing systems
Manufacturing systems generally run under heavy burdens, and any interruption will directly result in alternative losses. With the integration of smart analytics, businesses can develop manufacturing systems that will measure the specific repair requirements of the equipment.
These systems can give warning alarms to the unit when it encounters crucial, not-easily resolvable issues. Smart data analytics gives more profound insights into the manufacturing industry for transforming a reactive solution into a proactive one.
Complete Knowledge of Machine Utilization
By integrating existing IoT systems with predictive analysis, businesses can get real-time insights to track the efficiency of their manufacturing lines. Applying smart analytics to manufacturing will generate actionable data to bring intelligent improvements in the whole process and eventually save manufacturers time.
Understand the supply side of the manufacturing chain
Industries are incredibly vulnerable to supply chain disruptions, and to tackle this situation, they need to capitalize on the insights given by smart analytics to detect, prepare and solve disruptions.
Businesses can understand the value of the skills and costs incurred by each component in the production with the help of manufacturing data analytics. Data analytics helps to track the components and make quick and efficient decisions by visualizing the outcomes.
Effective warehouse management
Businesses must build better product flow management, arrangement structures, and restoration processes to enhance their operations. Smart analytics simplifies many complex tasks, such as identifying ways to improve stock and managing warehouses.
Take advantage of consumer preferences
Smart Analytics will give detailed information on customer preferences. Learning about customer behavior is essential to enhance your products' efficiency. Brand loyalty will increase manifold when customers realize their company pays attention to their requirements.
Upscale productivity by improving quality
Smart data analytics improves the capacity of manufacturing companies by combining compliance and quality. With the use of sensor-enabled data from the equipment, manufacturing companies will reduce waste and increase process efficiency.
Increases the efficiency of the manufacturing process
As there are many variations in the market, manufacturers must act quickly to adapt to those changes. Manufacturers can make quicker and more intelligent decisions based on the availability of large volumes of data, which eventually results in maximized efficiency.
Why choose the Google Cloud Platform's Smart Analytics for the manufacturing industry?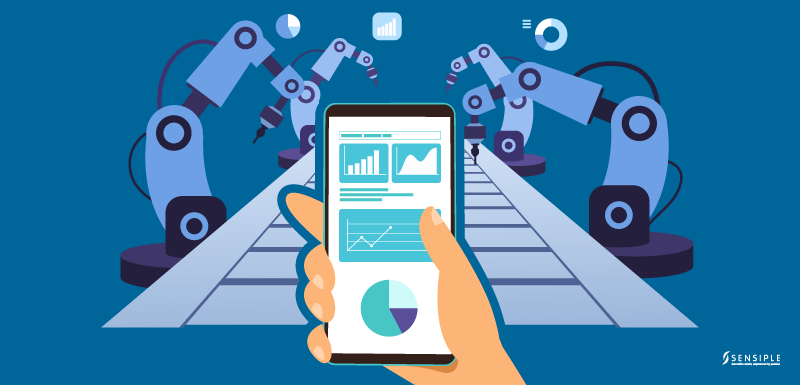 Businesses must overcome unique challenges to stay competitive in the market, and each business has its priority list for data-driven business growth. GCP helps manufacturers to unify their data and deliver enhanced business outcomes with Manufacturing Data Engine and Manufacturing Connect.
Now manufacturers can connect siloed assets, standardize data, and enhance visibility from factory floors to the cloud. It is said that only around 21% of the manufacturers have active AI initiatives in production to solve issues on customer expectations, supply chain volatility, changing buyer behavior, and more.
Manufacturing Data Engine
Google Cloud's manufacturing data engine will process, contextualize, and store factory data on its robust platform. This means manufacturing companies can have a customizable blueprint for ingestion, storage, transformation, and access to factory data.
Manufacturing Connect
Google Cloud's Manufacturing Connect is developed with Litmus Automation for quick connection and data streaming from any manufacturing asset and industrial system to Google Cloud based on an extensive library. Integrating the manufacturing data engine will propel data intake into Google Cloud for processing sensor and machine data.
Google Cloud's Manufacturing Data Engine and Manufacturing Connect will help manufacturers with,
Manufacturing insights and analytics - Manufacturers can create custom dashboards to visualize crucial data from factory KPIs like Overall Equipment Effectiveness to Machine Sensor data. The engineers and plant managers can set up new machines and factories with standardized dashboards, KPIs, and on-demand drilldowns into the data to get deeper insights.
Machine-level anomaly detection - Manufacturers can identify anomalies leveraging Google Cloud's Time series insights API in real-time machine and sensor data like noise, temperature, and vibration to provide alerts.
Predictive maintenance - Manufacturers can anticipate the service needs of the asset and reduce downtime and maintenance costs. By leveraging ML models, manufacturers can deploy high-accuracy AI optimizations quickly.
Accelerate time-to-insights with Sensiple's Smart Analytics powered by GCP
As a trusted Google Cloud partner, Sensiple can help you tackle and integrate data from diverse sources converting them to actionable insights that will drive intelligent decision-making and maximize your business potential. We deploy Google Cloud's advanced data analytics, artificial intelligence, and machine learning tools to boost your customer experience and eliminate the barriers of scale, cost, and performance.
To know more, reach out to us at info@sensiple.com
WordPress Blog Page Link
https://blog-test.sensiple.com/2023/05/08/how-is-smart-analytics-transforming-the-manufacturing-industry/