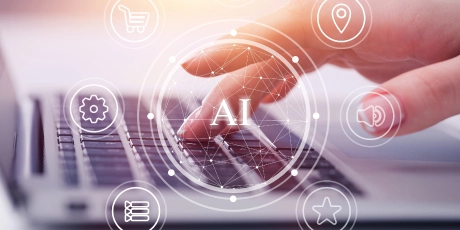 Reimagine your Customer Engagement rules through AI and Digital Technology
In today's customer-centric world, businesses strive to create frictionless customer engagement across channels and delight customers with brand loyalty. Rethinking the rules that govern the overall customer experience can be a fix. According to a survey (Forbes), 87% of global businesses think AI technology will give them a competitive edge.
The trademark of modern enterprises is Data, and AI is the key to enhancing the value of that Data. Leveraging AI to enable improved customer and employee understanding can improve business operations. Bringing AI to the center of every customer interaction can simplify service, better equips agents, and improve the entire experience in a personalized and precise way. Businesses can use data safely, understand and predict customer needs, and equip agents with the correct data and offers.
AI - The Future:
'AI-powered Customer Support & Engagement is at the heart of the shift, and that is only the beginning.' Artificial Intelligence (AI) is trending and has become an essential tool for brands that wish to provide a hyper-personalized, exceptional customer experience. Statistics show that most global consumers say AI can deliver the same or better service than humans. Significantly AI empowers businesses to gain customer engagement, brand loyalty, and customer retention; while it isn't a replacement for humans, it can efficiently respond to commonly requested inquiries.
Game-changing rules to improve customer engagement:
Innovate to satisfy customers:
Making customers happy is the first step toward driving engagement. The easiest way to achieve it is to provide your teams with cutting-edge tools to boost sales directly through effective customer interactions. AI and Automation have the potential to change the customer experience entirely and also enable the agent to give customers demanding and speedy service. It represents the most promising opportunity for companies to enhance their customer experience.
"Happy Employees Create Happy Customers"
Understand customers better with AI:
A brand's interactions with a customer are driven by real-time, actionable insights produced by AI, which can quickly analyze massive amounts of data.
By leveraging AI and real-time decision-making, brands can recognize and understand a customer's intent from the data generated and present real-time hyper-personalized, relevant information offered to customers.
Rethink your customer service through AI:
Customers often expect instant service, digital interactions, and a seamless conversational experience. As a result, contact centers set new objectives to enhance customer experience. The mix of AI and human thinking boosts the agent's natural abilities - empathy, efficiency, and helpfulness. When combined with AI, employees can improve customer experience by reducing wait times and providing an immersive, engaging experience.
Resolve ever-rising customer demands with Bots:
Chatbots make every interaction more intelligent and are the virtual workforce that your contact center solution needs. AI-powered chatbots are powerful tools that enable customers to self-serve. According to popular research, almost 90% of those using chatbots rate them as beneficial. Our technology enables interaction and integration between a chatbot and your back-end system. For example, a website visitor interacting with a chatbot can view suggested product possibilities and purchases while the IT and CRM systems work together without fuss.
Hand over the tedious tasks to AI-Bot:
Why should a contact center use an excellent human mind for something that doesn't require analysis, emotion, empathy, or judgment? Robotic process automation (RPA) will help in this case. RPA is perfect for tasks that don't require human interference. Additionally, it's ideal for circumstances in which human agents might be constrained or overburdened.
A report says that by 2025, artificial intelligence (AI) will fuel 95% of all customer interactions with a brand, including live phone and online chats.
What we deliver
Businesses can now offer quicker and more effective customer service with AI. The other benefits of employing AI include real-time access, increased business revenue, improved customer experience, efficiency, and time savings. In addition, AI offers customer experience management services like sentiment analysis, data mining, and predictive analytics to understand customers better.
We offer top-notch AI-based platforms, which is crucial for most contact center interactions. Our natural language processing, Artificial Intelligence, and analytics experts can design and create a precise customized solution for your unique business needs.
WordPress Blog Page Link
https://blog.sensiple.com/2022/11/24/reimagine-your-customer-engagement-rules-through-ai-and-digital-technology