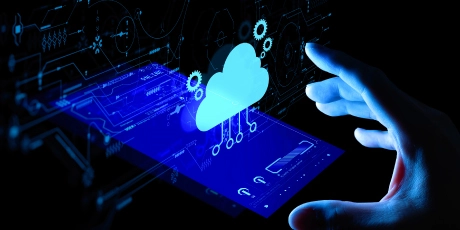 3 Successful Implementation Models for Your Organization's Cloud Migration and Modernization
When it comes to fulfilling your cloud needs, Sensiple is the perfect partner to accompany you on your journey. With extensive experience in cloud computing, including cloud migration and cloud modernization, Sensiple has embraced a cloud-native design principle. This approach has enabled us to position and establish all our services with a cloud-centric focus. The outcome of our mission is remarkable and has resulted in:
Partnership across all major Cloud providers - Microsoft Azure, GCP, and AWS. Cloud Certified Professionals in various roles such as Architects, Technology Leads, Developers, and QA teams who are supported by PMP-Certified Management teams.
Teams with extensive experience in implementing projects across multiple technology levels.
Offering a range of focussed services in - Discovery & Assessments, Digital Transformation, App Modernization, APIfication, Cloud Migration, Infrastructure Management, Data Analytics, RPA, and Managed Services.
Collaboration with clients to multiple levels including Co-managed projects, Fixed bid models, and Managed Services.
At Sensiple, we strongly believe in customer success models. By closely collaborating with your business and IT departments, we gain a deep understanding of your business needs, operating model, technology roadmap, futuristic processes, and budget constraints. From the discovery phase to the visualization of the end state, we thoroughly assess your pain points and requirements for modernization. This enables us to propose tailored solution models that ensure your continued growth and revenue.
Sensiple Implementation Models
1. Co-Managed Model: Unlock Your Cloud Potential
If your organization has already invested in Cloud practice and possesses a well-defined strategy, migration approach, and planned roadmap for Cloud adoption, we have a proposition for you. Do you have Business domain experts who can drive the Digital Transformation journey using Cloud technologies? Additionally, do you have a group of Technology experts and Architects who have formulated a solution? If you require a team of skilled resources to handle the implementation and contribute to the migration and modernization of your on-premises workloads, we are prepared to collaborate with you. Our expertise spans all levels and skills, ensuring we can support your cloud journey effectively.
In a Co-Managed project, our Agile teams and Scrum practices will be customer-driven, with our resources actively participating in Agile teams and Scrum processes. These resources possess the necessary domain and technology skills and are dedicated to contributing to sprints. They are managed by our Project/Delivery Managers and adhere to your organization's processes and policies. Our engagement spans from project initiation to completion, covering all delivery phases. We have identified several key success KPIs:
Resources working in the customer's time zone or overlapping shifts.
Direct interaction with customer agile teams.
Managed by Sensiple Project Managers.
Onsite and Offshore models and a diverse geographical location allow for an extended work window in a day.
Support from our Internal SME teams, In-house Cloud labs, KT sessions, and Video tutorials to continuously enhance skills.
The collaboration between Sensiple and Customer teams enables the sharing and adoption of best practices, maximizing productivity.
Flexible resource ramp-up and ramp-down based on demand.
A mutually beneficial approach for continued partnership success.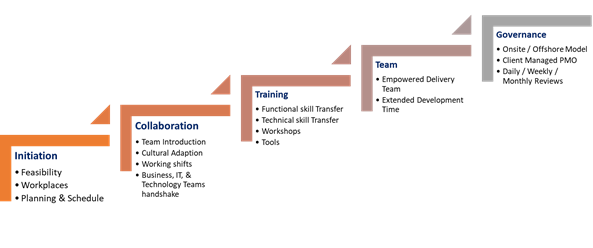 2. Fixed Bid Implementation Model
In this model, Sensiple performs discovery assessment, requirements gathering, solution engineering, and support. The cloud project's objectives and scope are clearly defined, aligning with the business needs. A finalized cloud migration approach and strategy, along with a migration checklist, provide a solid foundation. The project assembles a well-equipped team with the necessary cloud expertise, and roles are carefully defined with RACI, including Business Analysts, Cloud Technical Architects, Developers, QA resources, and PMs, all with prior experience in Cloud implementation within related domains.
The implementation includes migration of On-Premises workloads to the cloud in a lift-n-shift model, Legacy to Cloud Native, Microservices, Integrations, Data Analytics, and API Development.
The implementation process involves several key steps:
Discovery: Environments are examined, requirements are gathered, and risks and constraints are assessed.
Infrastructure Setup: The necessary infrastructure is established, pilot stories are created, and pilot execution and demos take place.
Team Building: A multifaceted team is assembled and deployed, ready to tackle the project's demands.
Application Development: This stage includes migration, CR (Change Requests), enhancements, and delivery of the defined scope.
Roll-Out, Monitor, and Support: After implementation, the project moves to the roll-out phase, where the solution is closely monitored, and support is provided as needed.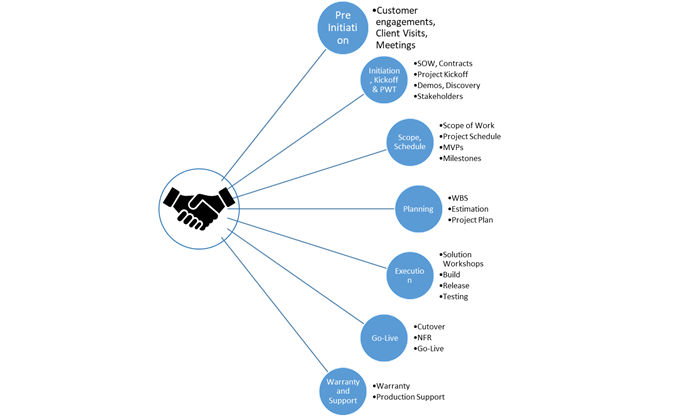 3. Managed Services Model
Sensiple provides an End-to-end Operational Model for Managed Services, catering to business needs like complete Cloud-based solutions, On-demand Delivery and Support Services, Staff Augmentation, Business Process Automation, Build, Launch & Transfer.
Under our Managed Services model, we deliver Value-added Business Strategy, leveraging Industry-specific Expertise and Solutions. Additionally, we offer Future Ready Technology upgrades in the following domains:
IT Asset Management
Infrastructure Management
Bespoke IT Services
Application Development and Maintenance
IT Support Services
DevOps
Application Modernization
Knowledge Management
Robotic Process Automation (RPA)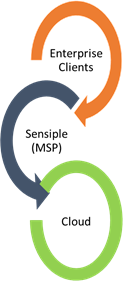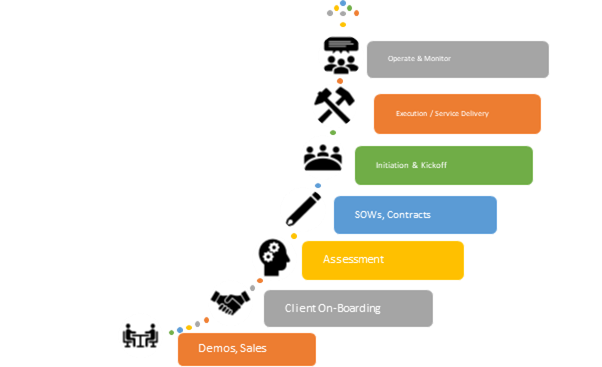 Embrace the Future with Sensiple
In today's dynamic digital landscape, harnessing the full power of the cloud is crucial for your organization's success. Sensiple, with its wealth of experience, strategic partnerships, and customer-centric approach, stands as your ideal partner for your cloud journey. Together, we can unlock new opportunities, enhance efficiency, and foster innovation. Contact Sensiple today and embark on your transformative cloud adventure.
About the Author

Ponnivalavan Chinnugoundar a Senior Delivery Manager at Sensiple, brings over 10 years of experience in Delivery and Program Management. With extensive experience in overseeing and successfully managing numerous cloud migration projects across diverse domains, including Banking, App Modernization, and Contact Centre, Ponnivalavan has played a pivotal role in driving Digital Transformation journeys for our customers. Leveraging his wealth of expertise and insights, he ensures seamless project execution and achieves desired outcomes.
WordPress Blog Page Link
https://blog.sensiple.com/2023/07/31/3-successful-implementation-models-for-your-organizations-cloud-migration-and-modernization/