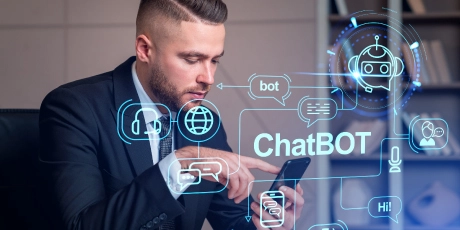 tryvium - Elevating Microsoft Teams' Employee Contact Center Experience with Intelligent ACD Engine
In the realm of telephony, Automatic Call Distributors (ACDs) have been instrumental in efficiently routing incoming calls in call centers, catering to various customer service needs. However, as contact centers evolved, the focus shifted towards an OmniChannel approach, incorporating multiple communication channels like Chat, SMS, and WhatsApp. Modern Contact Centers, including AI-powered ones like tryvium, not only offer diverse channels but also analyze data to enhance customer service.
The Rise of Employee Contact Centers
During the process of transformation, Call Centers have evolved into Contact Centers, expanding their services beyond traditional phone channels to include various communication channels like chat, SMS, WhatsApp, and more. This shift has given rise to the adoption of an Omni-Channel approach, providing customers with a broader range of options to interact with businesses.
The emergence of ChatGPT-powered Contact Centers has taken customer service to the next level. These advanced Contact Centers now leverage AI technology to collect and analyze vast amounts of data before routing calls or chats to live agents. This data-driven approach enables a more informed and efficient customer service experience, as agents can access valuable insights about the customers even before the conversation begins.
Moreover, the role of Automatic Call Distributor (ACD) systems has expanded beyond just routing phone calls. Contact Centers extend beyond B2C segments to serve enterprises through Employee Contact Centers, offering cognitive AI-based self-service and seamless agent transfers for improved internal communication and support. The shift has revolutionized customer experiences and employee empowerment.
Why ACD is Vital in a Contact Center
Today's contact centers focus on enhancing the customer experience through self-service options, reducing reliance on live agents. This allows investment in cognitive technologies, AI, and integrations for efficient issue resolution. While maximizing self-service, agent transfers are still essential, especially for technical support or complex problems. In Employee Contact Centers, Automatic Call Distributor (ACD) systems play a crucial role by intelligently routing interactions to the right agent based on skills, availability, and workload. ACD optimization ensures streamlined internal communication, boosting productivity for both employees and agents.
Without further delay, let's dive deep into how tryvium ACD effectively makes informed decisions and routes chats/calls to live agents.
Features of tryvium ACD
tryvium offers a range of advanced features designed to elevate the employee and agent experience within Microsoft Teams' Employee Contact Center.
Round Robin Routing
tryvium's default routing method, Round Robin, equally distributes chats and calls among agents in a skill group based on their Microsoft Teams status. However, if an agent is busy, the interaction is passed on to the next agent in the sequence.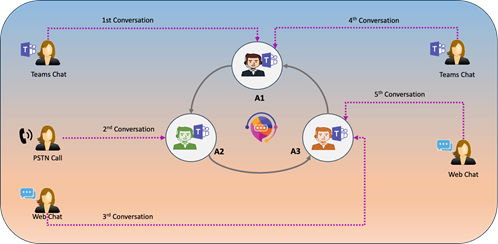 Same Agent Routing
tryvium's ACD system avoids chat disconnects and repeated issues by proactively analyzing the customer's profile and recent interactions. It aims to reconnect customers with the same agent for continuity and personalized support. Service desk managers can customize this feature and other dynamic parameters to optimize customer satisfaction.

Sentiment Based Routing
In the contact center world, tryvium ACD employs sentiment-based routing to provide personalized experiences to customers. By analyzing past interactions and predicting individual needs from comprehensive customer data, the system routes customers to the most suitable agents. This approach enhances the customer experience, reduces handling time, and increases first-contact issue resolution, minimizing the need for subsequent escalations. Additional parameters are also considered to make informed routing decisions for improved efficiency.

tryvium reads the customer's profile in 2 ways:
Customer's O365 profile through Microsoft Graph API.
Customer's profile from ITSM/CRM systems. Specific to an organization, tryvium comes with out-of-the-box integration with ServiceNow, BMC Remedy, FreshService, and other ITSM systems. Also, tryvium allows integration with any ITSM/CRM systems.
Intent Based Routing
tryvium ACD's Intent-based Routing comprehends customer intent from their Virtual Bot conversation. When a customer seeks live agent help after failing to resolve their issue, ACD recognizes their intent and past interactions. Without further questioning, it hands them off to the appropriate "Desktop Support" queue, streamlining the journey for efficient problem resolution. This intelligent routing eliminates unnecessary steps, ensuring a smooth transition to the right support queue.
Language Based Routing
tryvium enables Service Desk managers to create queues for diverse languages and assign agents to handle multiple language queues. Managers or administrators can also assign multiple languages to individual agents, allowing them to handle conversations in various language queues. For instance, Bob can be assigned to both English and Spanish queues if he is proficient in both languages. This flexibility allows the ACD system to make informed routing decisions, connecting customers with agents who can effectively communicate in their preferred language.

Real-time Translation Service
tryvium's real-time translation service breaks language barriers between customers and agents, allowing effective communication even when agents aren't proficient in the customer's language. This feature eliminates the need for language-specific teams, expanding service desk reach and providing seamless support to a diverse customer base.
Location Based Routing
tryvium ACD's distinct queue feature enables efficient support across multiple geographic locations. It directs customer inquiries to the appropriate regional service desk team, avoiding delays and ensuring timely responses within the relevant time zone. This localization of support enhances efficiency and responsiveness in addressing employee needs across different regions.
Skill Based Routing
tryvium empowers service desk managers to classify queues based on agent skill levels, ensuring highly skilled agents are prioritized for handling conversations. This skill-based routing feature plays a crucial role in providing effective support for challenging scenarios, addressing frustrated customers, VIP clients, and complex issues with finesse.


Conclusion: Transform Your Employee Contact Center Today
Remember, as Charles Kettering said, "A problem well stated is half solved." With tryvium ACD, you've already solved half the challenge of exceptional customer support!
With tryvium ACD's cutting-edge features and integration with Microsoft Teams, revolutionize your Employee Contact Center experience. Elevate your customer service and empower your employees with an unparalleled support system that exceeds expectations. Embrace the future of contact centers with tryvium, where efficiency meets excellence!
Intrigued by the incredible capabilities of tryvium ACD? Well, hold on, because there's so much more to explore! In the next part of this blog, we'll dive even deeper into the amazing features and functionalities that tryvium has to offer. Get ready to uncover how tryvium ACD transforms your Employee Contact Center into a powerhouse of efficiency and customer satisfaction. Stay tuned for the continuation, where we'll unveil the full potential of tryvium ACD!
About the Author

Suresh Govindaraj holds the position as Associate Vice-President of Engineering, where his primary responsibility is to oversee Architecture and Technology. He plays a key role as the Chief Architect of Sensiple's flagship product, "tryvium - Employee Contact Center built on Microsoft Teams". He is a TOGAF-certified Enterprise Architect and possesses a profound passion for programming.
Curious to know more? Dive deeper into more insights of tryvium: Unveiling the Power of tryvium ACD - Part 2
WordPress Blog Page Link
https://blog.sensiple.com/2023/08/02/tryvium-elevating-microsoft-teams-employee-contact-center-experience-with-intelligent-acd-engine/