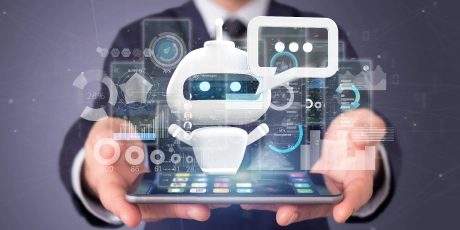 Unveiling the Power of tryvium ACD
Welcome back to the exciting world of tryvium ACD! In this continuation of our previous blog, we'll explore the remarkable features that set tryvium apart from the rest. Brace yourself for an unforgettable journey into the heart of seamless chat and call routing, were customer satisfaction and agent productivity soar to new heights.
VIP Routing
tryvium's VIP routing feature is designed to assist the Service Desk team in prioritizing chat and call requests from executives within their organization. By analyzing the customer's profile, tryvium determines if they are an executive or flagged as a VIP. Rather than placing them in a regular queue, tryvium's ACD system routes the conversation to the VIP queue. Only agents specifically assigned to handle VIP chats will receive and respond to these requests. This ensures delivering expedited and specialized support to those who need it the most.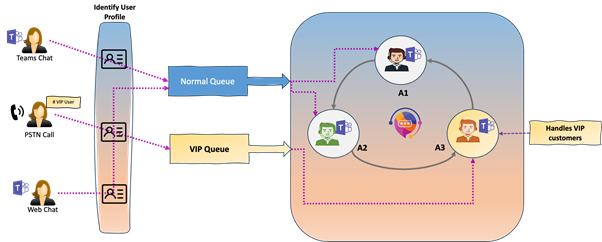 Auto Accept
SLA is a critical metric in Contact Centers. With the ACD's enabled feature, agent productivity SLA begins once chats are transferred, saving agents 5-15 seconds per chat by eliminating the need to respond to invitations. This proves highly advantageous during peak traffic hours, especially in the morning with higher interaction volumes.
Chat/Voice Transfers
tryvium ACD's essential feature allows agents to transfer chats/calls between queues, facilitating seamless hand-offs and redirecting conversations to the right queue or agent for further assistance or expertise.
Multi-agent Conference
tryvium ACD enables agents to initiate conferences with other agents, promoting collaboration and knowledge sharing for efficient issue resolution during the initial call. This feature facilitates quick support and guidance from skilled agents, leading to improved customer satisfaction.
Handling Waiting Chats in Peak Hours
tryvium ACD empowers Service Desk managers to redirect waiting chats and calls to other available queues, preventing prolonged wait times for customers. This dynamic queue-based configuration optimizes customer wait times during peak hours and ensures timely resolution of inquiries, enhancing overall efficiency.

Queue Position and Average Wait Time
tryvium ACD offers real-time updates on queue position and wait times, enhancing the customer experience with transparency and reduced uncertainty. Customers stay informed, make informed decisions, and effectively plan their time while waiting for assistance. This proactive notification system manages expectations and improves overall customer satisfaction.
Chat/Call Back
tryvium ACD addresses customer preferences during peak hours by offering the option to opt-in for a chat or call back instead of waiting in a queue. The system intelligently notifies the customer, initiating the chat/call back when an agent becomes available and ensuring the customer's Microsoft Teams status is "Available." This built-in feature enhances the customer experience, providing flexibility and respecting their availability, avoiding interruptions during meetings or presentations.
Customer Feedback
Customer feedback is essential for contact centers to improve service and agent training. Analyzing feedback provides valuable insights, helps identify areas for improvement, and enhances the overall customer experience. Users can enable or disable the feedback feature in tryvium ACD. Feedback prompts appear at the conversation end, considering customer emotions and mindsets. This considerate approach avoids prompting frustrated customers for feedback.
With tryvium, custom feedback and survey forms can be created. The system records and stores responses, allowing for exporting as reports for analysis. Customer feedback is a vital input for tryvium ACD, informing future routing decisions and continuously enhancing its capabilities to improve the overall customer experience.
Business Hours and Holidays
tryvium ACD provides flexibility for customers contacting the Service Desk outside regular business hours or holidays. They can be directed to an emergency queue or a different geographic region based on organization preferences. This feature ensures timely support and enhances the overall customer experience during off-hours or holidays.
Ticketing Systems Integration
tryvium ACD enables seamless integration of each queue with ITSM/CRM systems, capturing conversation transcripts and permissible file exchanges. The system associates the conversation with a specific ticket, enhancing data management and accurate documentation of customer interactions. This integration facilitates efficient ticket management and comprehensive customer support by ensuring a seamless flow of information between the ACD and ITSM/CRM systems.
Get Ready for the tryvium ACD Experience!
The journey doesn't end here! There's so much more to explore in the realm of tryvium ACD. Elevate your Microsoft Teams Employee Contact Center to new heights with tryvium's incredible capabilities. Reach out to our team now and let the magic of tryvium transform your contact center experience like never before!
Visit our Azure Marketplace listing for more information. The future of contact centers awaits!
About the Author

Suresh Govindaraj holds the position as Associate Vice-President of Engineering, where his primary responsibility is to oversee Architecture and Technology. He plays a key role as the Chief Architect of Sensiple's flagship product, "tryvium - Employee Contact Center built on Microsoft Teams". He is a TOGAF-certified Enterprise Architect and possesses a profound passion for programming.
Missed exploring the first part of tryvium? Click here
WordPress Blog Page Link
https://blog.sensiple.com/2023/08/07/unveiling-the-power-of-tryvium-acd/